From building Michigan's first LEED-certified house to ENERGY STAR certification to radon protection, Cobblestone Homes is proud to implement healthy and energy-efficient practices and products in every home we build. Among them:
Guaranteed Energy Bills
Cobblestone Homes guarantees your heating and cooling bills will not exceed a pre-determined Guaranteed Usage in any one-year period, or you will be reimbursed 100 percent of the cost difference.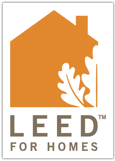 We are committed to incorporating energy-efficient and environmentally friendly standards in the homes we build. We were the first to build a LEED-certified house in Michigan, and we've kept moving forward since then. Our LEED-certified houses use less energy and are healthier for the people who live in them. U.S. Green Building Council's LEED (Leadership in Energy and Environmental Design) is the nationally accepted benchmark for high-performance "green" buildings.

Green building is the process of considering the environmental impact of the work we do and the materials we use in the building process. There are numerous green building options that we discuss throughout the building process. As a proud member of Green Built Michigan, we allow you to decide how green you would like to be, and discuss the cost benefit of those selections, both financially and environmentally.



We are proud to offer new homes that have earned the ENERGY STAR label. ENERGY STAR-qualified new homes are substantially more energy efficient than homes built to the minimum code requirements. Our ENERGY STAR-qualified new homes are independently verified by a third-party Home Energy Rater to ensure they meet ENERGY STAR energy efficiency guidelines.


Radon Protection
Radon is the second-leading cause of lung cancer in the United States. It is estimated that 22,000 deaths result annually from this harmful exposure. Cobblestone installs passive radon protection systems in every home we build.
Mechanical Air Exchanger
Indoor air is three times more polluted than outdoor air, and is considered one of the top five hazards to human health, according to the EPA. We install a mechanical air exchanger, or Heat Recovery Ventilator, in our homes to improve air quality by exchanging the stale, polluted air from inside the home with fresh-filtered air from outside. The result is cleaner indoor air.

House Testing Services
Once your home is built, its performance is tested to ensure that it meets Cobblestone's high standards. A certified house diagnostician evaluates your home's energy efficiency, house pressures and tightness, and indoor air quality.
Energy Analysis
An energy analysis is performed on your home to determine the average heating and cooling costs. The analysis should indicate that heating and cooling costs will average 30 percent less than the energy costs of a home built to current Michigan energy code standards.