in 2010, we built Michigan's first Net Zero Energy Home,
changing mindsets about energy efficiency. Now, we've done it again.

Sustainable is Attainable — InVision Zero
5018 Butterfield Lane, Midland
The InVision Zero home — our second Net Zero Energy Home built in collaboration with the Dow Chemical Company — is an extremely affordable home that produces about as much energy as it consumes. For a complete list of the energy-efficient products and technologies used throughout the InVision Zero home, click here. For a photo tour of the InVision Zero house, click here.
What is a Zero Energy Home?
Although it looks like most homes, and it's connected to the utility grid, a ZEH (Zero Energy Home) is significantly different than other houses. Unlike other homes, over the course of a year, the ZEH produces about as much energy as it consumes. This "net zero" consumption level is accomplished through the combination of energy-efficient construction and the home's renewable energy technology.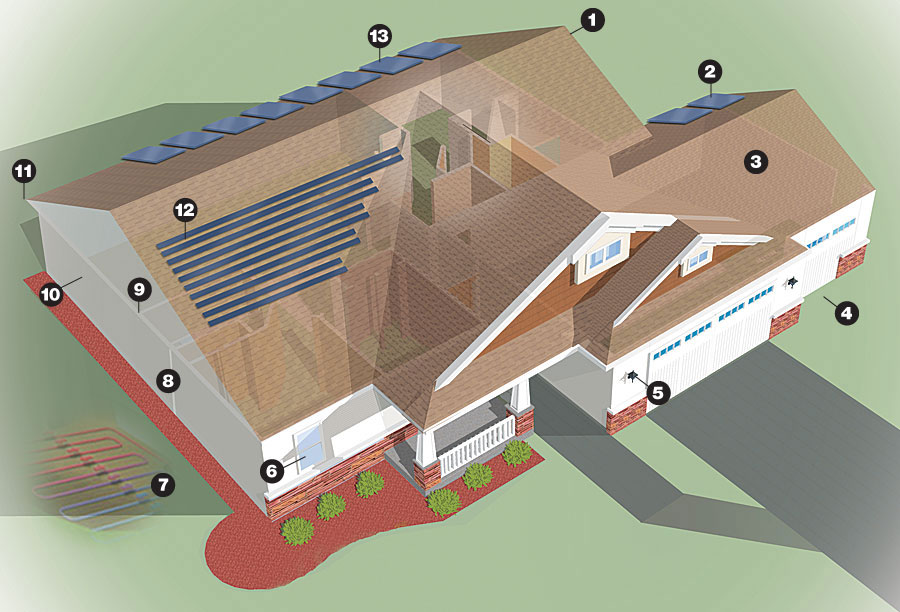 1 - Dow Structural Insulated Sheathing (SIS) on exterior walls
2 - Enerworks Solar Panels for water heating
3 - Dow Closed Cell Rigid Spray Foam & Blown-in Cellulose inside attic
4 - Basement ERV System (Energy Recovery Ventilation System for mechanical ventilation)
Greywater Heat Recovery Unit
Dow Tongue & Groove Styrofoam (Under basement floor)
Dow Perimate Insulation (Exterior basement wall board)
5 - Energy Efficient Lighting by Kichler and Juno (Compact Fluorescent Lighting Throughout)
6 - Low-E Glass, Paradigm Triple Pane w/Krypton Gas (On all windows)
7 - WaterFurnace Geothermal Heating & Cooling is buried in the earth, ground source heat pumps harness the earth's constant temperature to heat in winter and cool in summer.
8 - Utility Meter spins backwards when solar power exceeds house demand selling power back to the utility company
9 - Closed Cell Rigid Spray Foam inside wall cavity
10 - Tongue & Groove Styrofoam in exterior walls
11 - Thirty inch overhang manages solar heat gain
12 - Dow Powerhouse Solar Shingles
13 - Energy Generating Solar Panels made with Dow Corning components