Cobblestone Homes will be featured on the March 24 episode of HGTV's "Showhouse Showdown," and we want you to join us for a viewing party!
The public viewing party is set for 2:30 p.m. Saturday, March 24, at Saginaw Valley State University's Ryder Center. The episode, which also will feature many Great Lakes Bay Region residents, will air during the 51st Annual Home & Lifestyle Show. The viewing will take place on the main show floor at the Ryder Center.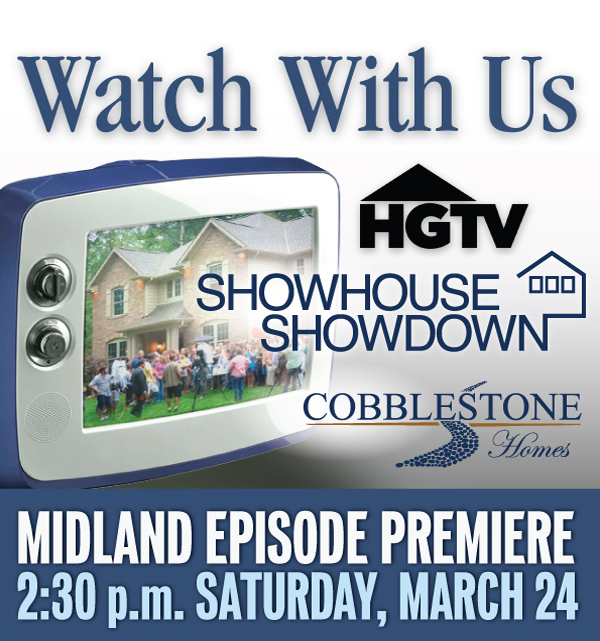 "We couldn't have had such great success with our episode of 'Showhouse Showdown' without the help and participation of hundreds of wonderful folks from throughout the Great Lakes Bay Region," said Mark Wahl, co-owner of Cobblestone Homes, which was chosen for the HGTV show through a nationwide search.
"We see this viewing party as a big thank you to the tri-cities for supporting us — plus, it will be so much fun to all get together and watch ourselves on HGTV."
Cobblestone built two houses in Larkin Township for the local episode. Both homes have since been sold.
"Showhouse Showdown" pits two professional interior designers against each other at two separate homes. The designers were given the same decorating budgets and the chance to create a winning interior.
Mid-Michigan residents chose the winning "Showhouse Showdown" designer by voting which home they liked best during an open house Aug. 20. About 700 area residents showed up for filming, setting a "Showhouse Showdown" open house attendance record, producers said.
The winning interior designer will be announced when the Midland episode airs at 2:30 p.m. March 24 on HGTV. Some mid-Michigan residents were interviewed during filming and will appear on the show.
The public viewing party will take place during the Home & Lifestyle Show, the largest professional "Home & Lifestyle Show" north of Detroit. The show runs 9 a.m.-8 p.m. March 24 and 11 a.m.-5 p.m. March 25 at Saginaw Valley State University's Ryder Center. Admission is $5 per person; 18 and younger free (free parking).
Will you attend the viewing party? Join the discussion on our Facebook page, and let us know you're coming!
---