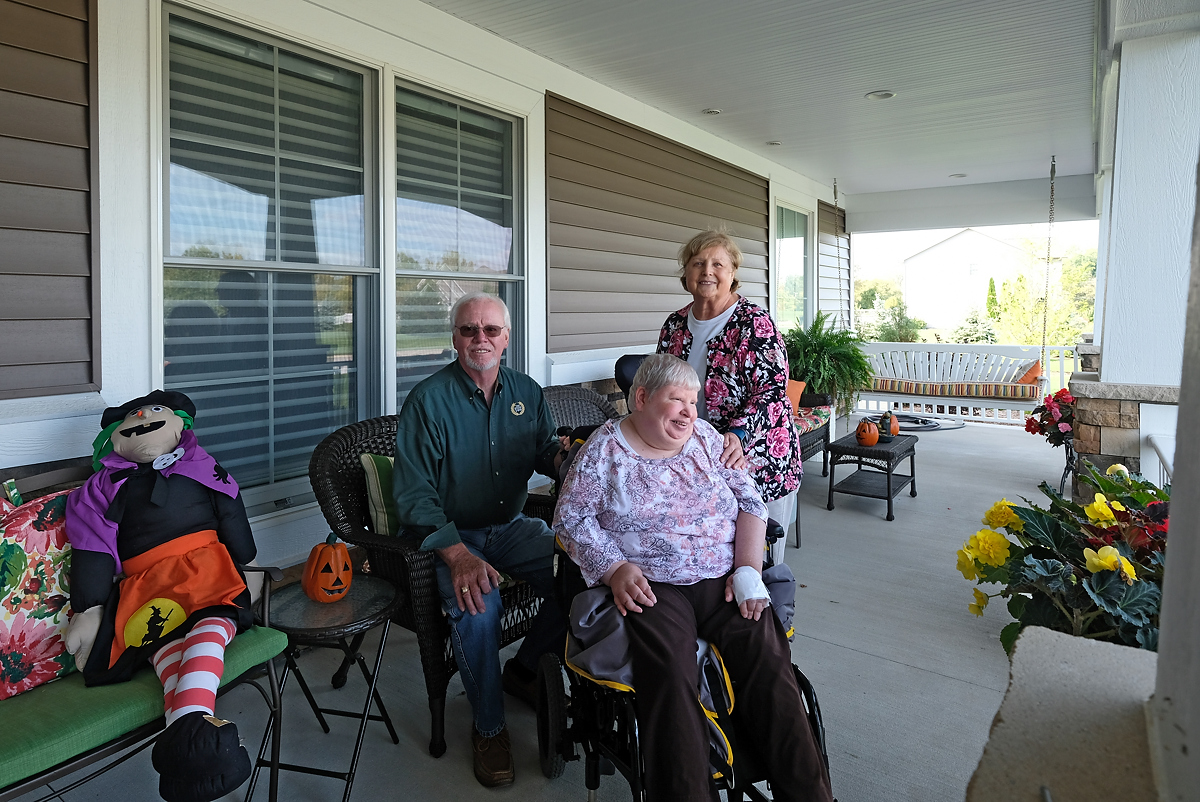 For years, Cerebral Palsy and Brittle Bone Disease kept Cindy Kesseler confined to one room of the family home. That all changed, though, when the family partnered with Cobblestone Homes to build a Universal Design home for Cindy. 

Universal Design Concept Gives Family Renewed Independence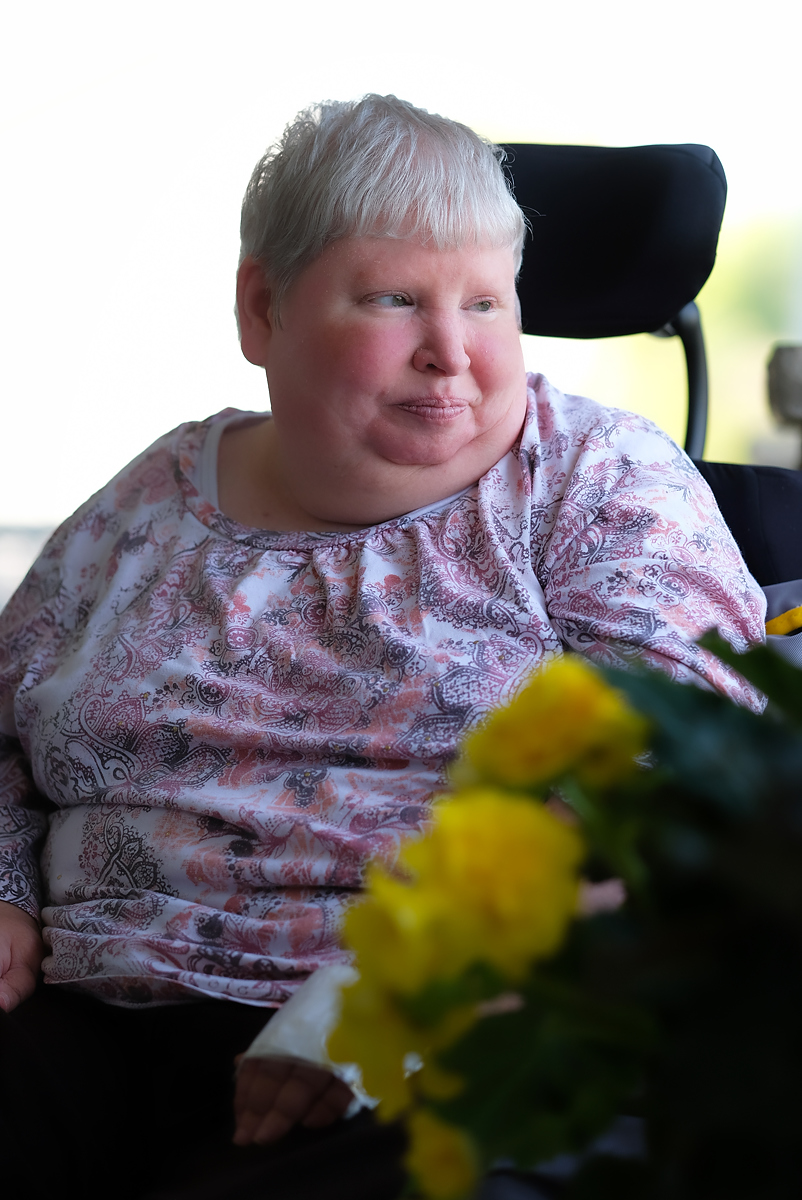 For the first time in decades, Cindy Kesseler moves freely through all parts of her home, thanks to her brother and a concept called Universal Design.
Cindy, who was born with Cerebral Palsy, was fairly mobile until doctors diagnosed her with Brittle Bone Disease at 14. Today, she spends most of her time in a wheelchair or hospital bed. She lives with her parents, Rosalie and Jim Kesseler. For years, Cindy was confined to one room of the family home. The home's halls, doorways and stairs couldn't accommodate her wheelchair. As a result of multiple back surgeries, Rosalie could no longer carry Cindy.
In stepped her brother, Brian Kesseler, who enlisted the help of sisters, Carla and Cheryl. The trio contacted Cobblestone Homes to build a home incorporating Universal Design for Cindy and their retired parents. At first glance, you probably won't notice anything unusual in the Kesseler home. Universal Design is subtle, but it makes our homes work for every stage in our lives.
For the Kesselers, the difference starts before you even open the front door. The driveway is shaped so two caregiver can park cars off the street, but without blocking the garage. Paved areas lead to a backyard fire pit and a gently-sloped bridge connects a raised deck to ground level. The front porch is wide and deep, allowing plenty of room for maneuvering a wheelchair.
Cindy's bedroom is located near the front door, so she can see who is coming and going.  A door can be closed to separate Cindy's wing from the rest of the home when she wants privacy. Her room includes a roll-in shower with two shower heads. A landscape of plants and birdfeeders grows outside her window. A sprinkler system keeps the plants green and healthy.
Her bedroom is immediately off the garage, so she can get in and out of the house without moving into harsh weather. She also has a washer and dryer near her room so caregivers can easily do her laundry. A separate, smaller washer and dryer serve the rest of the home.
"Cindy is very comfortable here," said her mom, a retired LPN. "Here, she has her own space."
The same Universal Design features that make Cindy comfortable would work for most people. More importantly, Universal Design makes independent living possible for the elderly and those with special needs. As the population ages, making homes that work for people with limited mobility becomes more of a concern. Most Americans surveyed by AARP say their goal is to age in place, rather than moving to senior housing or an assisted living facility.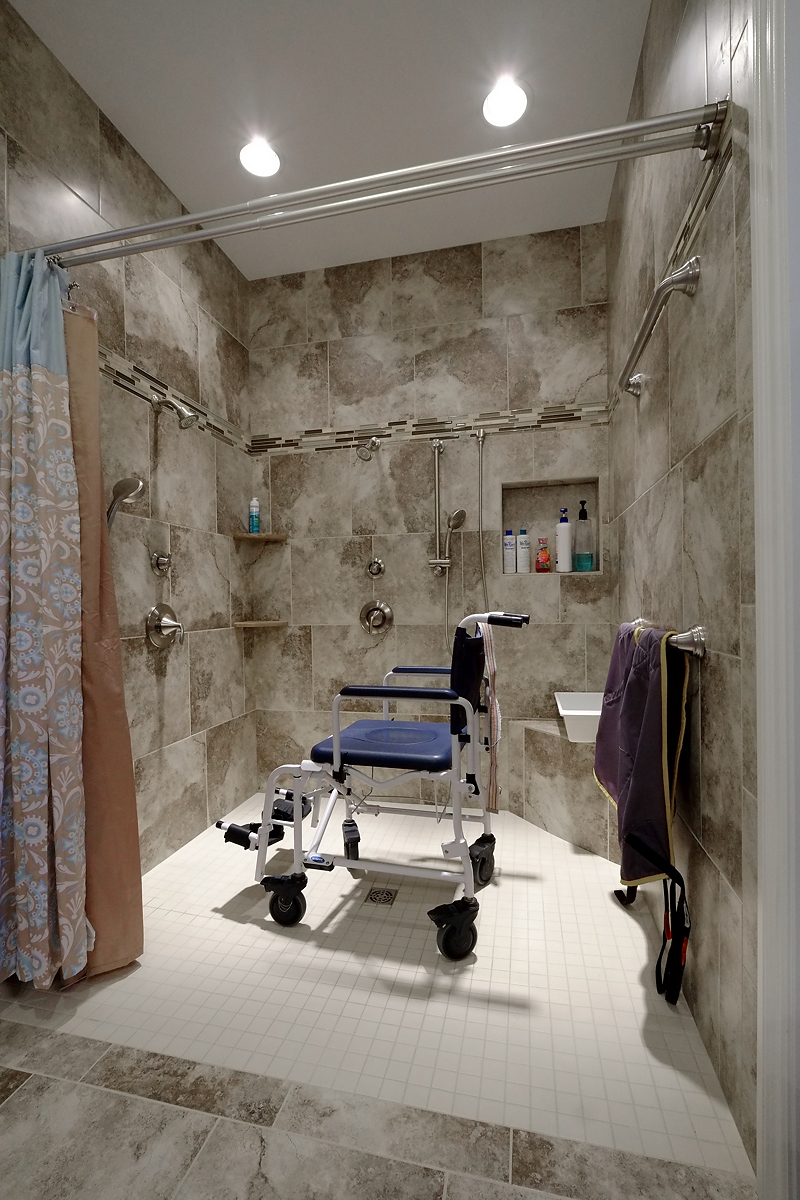 Zero-clearance entries, wide doorways and stairways, hard surface floors and more make that goal easier to achieve. Remote-control door locks and security cameras connected to the internet make it possible for the Kesseler's to monitor Cindy's safety, even when they aren't home. Through the cameras, they can talk to Cindy or her caregivers. A power chair lets her move to the basement, especially important in the event of a storm or severe weather.
Cobblestone didn't compromise its high-performance standards for the Universal Design. The roof is ready for solar shingles. Insulation, windows and other materials were chosen to guarantee the home is comfortable in every season. An air exchange system keeps air quality high, an important concern for anyone with compromised immunity.
Ample storage and a room for the grandchildren to visit was important to the Kesselers.
Outside, in addition to the attached garage, there's a small barn with doors tall enough for a motorhome. Jim says it's filled with his "toys."
The basement, with 9-foot-tall ceilings to give it an open feel, is divided into two parts. One portion is outfitted like an apartment. It boosts two bedrooms, a full kitchen with a tin ceiling, windows overlooking a terraced garden, a ping pong table and a sectional couch with enough room for all the grandchildren to lounge. Tall shelves line the walls of the un-finished portion, leaving plenty of space to store everything the Kesselers have acquired in more than 50 years of marriage.

The family moved into the home in November 2015, after 7 months of construction. Jim praised Cobblestone for finishing the work in that time frame. Jim retired after a career in construction, real estate and at Saginaw Bay Underwriters. "I've seen a lot of different builders and Cobblestone rises to the top," Jim said.
In the end, though, what matters isn't that this home works for Cindy or could keep them independent for more years. What matters in this home is the kids know Mom, Dad and their sister are safe and comfortable. The energy needed to keep the home functioning is minimal, yet the space is large enough to hold extended family gatherings.
"This is the best of both worlds," Jim said.