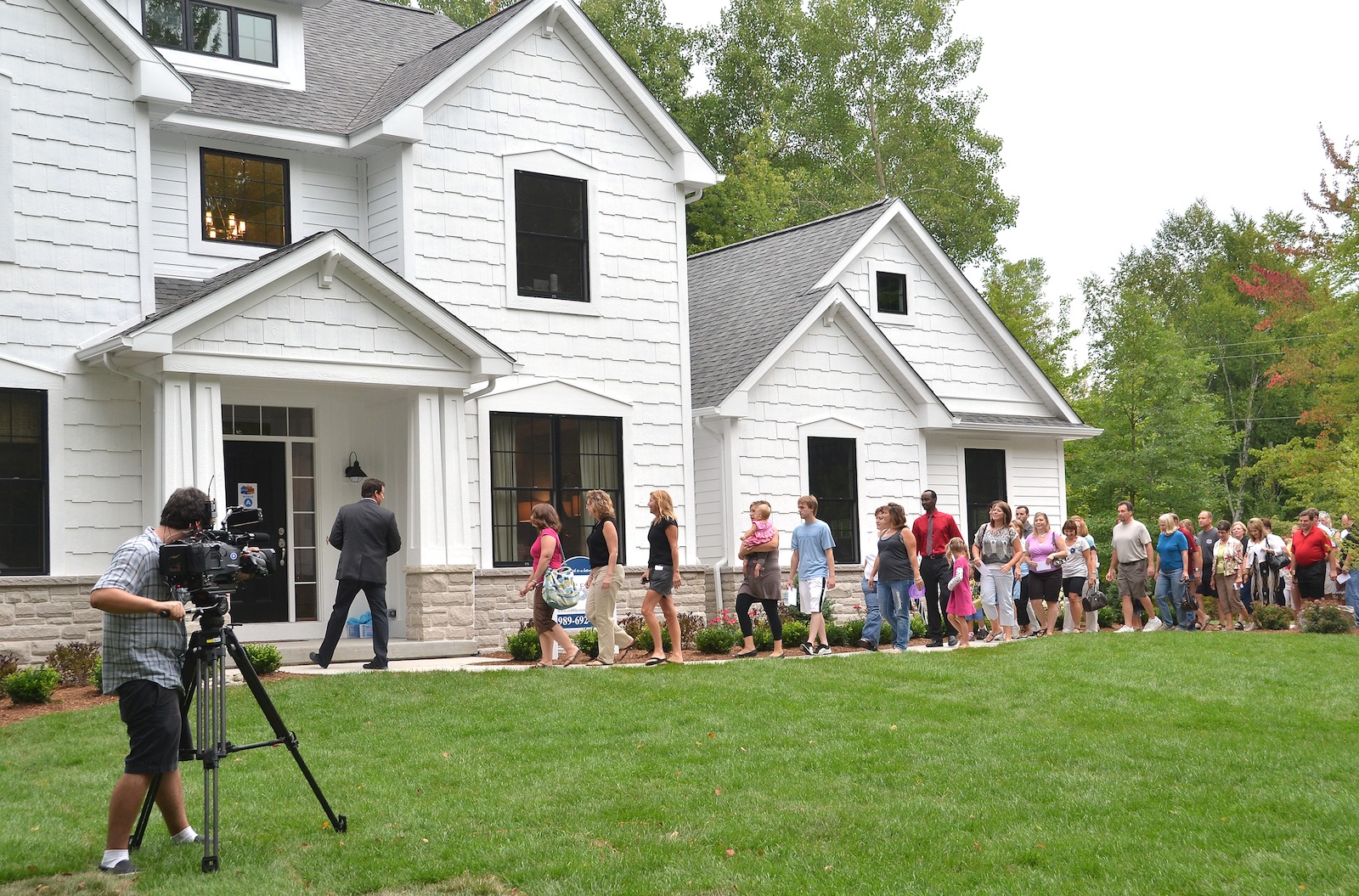 "Showhouse Showdown" host Bob Guiney leads a record-breaking open house crowd of nearly 700 into one of two houses that we built in Larkin Township for the HGTV television show in August. Our episode will premiere at 2:30 p.m. March 24.
Mid-Michigan residents who have been waiting all winter to possibly catch a glimpse of themselves on national television will finally get their chance.
HGTV, which filmed an episode of its new series "Showhouse Showdown" in Midland in August, says the local episode will premiere at 2:30 p.m. March 24.
Cobblestone Homes built two houses in Larkin Township especially for the local episode, which HGTV has named "Old World Style vs. Fun Floating Furniture." Both homes have since been sold.
Cobblestone was chosen for "Showhouse Showdown" through a nationwide search.
Mid-Michigan residents chose the winning "Showhouse Showdown" designer by voting which home they liked best during an open house Aug. 20.
"When HGTV first approached us about doing 'Showhouse Showdown,' the producers asked me if I thought mid-Michigan folks would turn out to support it," Cobblestone co-owner Mark Wahl said. "They had just filmed episodes in Oklahoma City, Pittsburgh and other big cities. They were concerned about Midland being smaller.
"Little did they know we'd set an attendance record. We got about 700 people here for the televised open house, and at the time of filming, that was by far the biggest crowd they'd ever had. I was proud of our work, and proud of the people in this region. I think Michigan's Great Lakes Bay Region comes off looking great."
The winning interior designer will be announced when the Midland episode airs at 2:30 p.m. March 24 on HGTV. Some mid-Michigan residents were interviewed during filming of the "Showhouse Showdown" open house and will appear on the show.
HGTV originally had planned to air the Midland episode in October 2011 but delayed the release of new shows until March 2012, citing stiff competition in the Monday night television lineup.
Join the discussion about "Showhouse Showdown" on our Facebook page as our episode's premiere nears!
---