Cobblestone Homes was chosen to build two houses for the new HGTV series "Showhouse Showdown" during a nationwide search in summer 2011.
Our episode, filmed at the two Larkin Township homes in August 2011, drew a record-breaking crowd of about 700 people from throughout mid-Michigan. The episode will air at 2:30 p.m. March 24.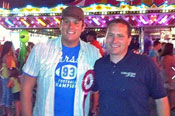 Bob Guiney and Mark Wahl
"Showhouse Showdown" pits two professional interior designers against each other at nearly identical homes. The designers were given identical budgets and the chance to create a winning interior.
Mid-Michigan residents chose the winning "Showhouse Showdown" designer by voting which home they liked best during an open house Aug. 20.
The HGTV show is hosted by Michigan native Bob Guiney, who rose to fame when he starred on ABC's "The Bachelor" and later as the host of TLC's "Date My House" and the Game Show Network's "GSN Live" and "Bingo Blitz."
Cobblestone co-owner Mark Wahl showed Guiney around while he was in town — even taking him to the Midland County Fair, where they bought a pig.