Bob Guiney — the "Showhouse Showdown" host who will join us for a viewing party during our HGTV appearance Saturday — says he is excited to return to the Great Lakes Bay Region.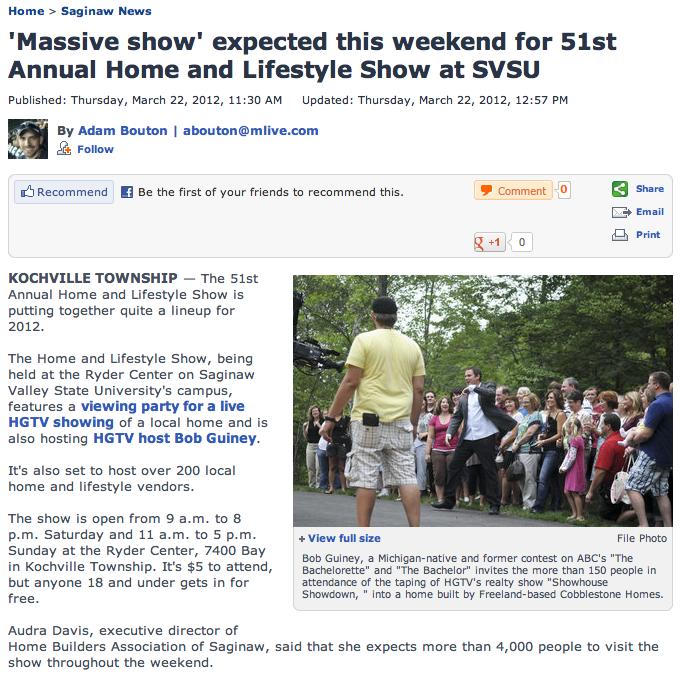 "I'm a Detroit boy," Guiney told MLive.com. "I absolutely love the Midland area. My family has a home near West Branch and I've been going through Bay City and Saginaw and Midland all my life so it was great to have a show that can showcase my home state."
Cobblestone Homes will be featured on HGTV's "Showhouse Showdown," and you're invited to join us for a public viewing party when the episode airs at 2:30 p.m. Saturday, March 24. The viewing will take place on the main floor of Saginaw Valley State University's Ryder Center during the 51st Annual Home & Lifestyle Show.
The Home & Lifestyle Show will feature a couple hundred local vendors.
"We've had over 200 booth spaces sold, so it's going to be a really massive show," Audra Davis, executive director of Home Builders Association of Saginaw, told MLive. "This will be our biggest year in quite a long time. I think the weather has helped, the economy is changing. The survivors in the industry, who are dedicated to their craft, are out to generate new business."
Read more of MLive's interview with Bob Guiney here.
Read more about the March 24-25 Home & Lifestyle Show here.
---