Families of oncology patients will feel wrapped in the love of the community when they discover the calming space inside the Comfort Care Suite at MidMichigan Medical Center – Midland.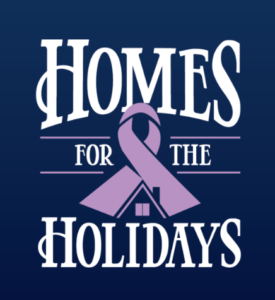 The home-like suite, designed by Cobblestone's Melissa Wahl, is attached to the patient room – which includes a bedroom, kitchen, fireplace, private bath and home office. It was built with funds that Cobblestone Homes raised during the 2015 and 2016 Homes for the Holidays event. Inside the renovated suite, the family will find a private place to rest while their loved one receives end-of-life care.
Mark and Melissa Wahl, of Cobblestone, say raising the money and helping renovate the suite have confirmed their faith in the tremendous generosity that thrives in the Great Lakes Bay Region.
"When one person has cancer, their entire family is involved in the fight. We hope that this suite provides some small measure of comfort to families as their loved one receives end-of-life care," Melissa Wahl said.
The suite became a reality in 2017 only after the efforts of thousands of people during the Homes for the Holidays event. Owners of Cobblestone Homes joyfully decorated their homes, inside and out, with brilliant lights and seasonal trimmings to create winter wonderlands. Ticket-buyers and generous donations from sponsors contributed financially to the efforts. In the end, more than 1,000 people toured the homes.
"Leaving a loved one at a hospital, in their time of need, is one of the hardest things I have ever experienced. Building this suite allows a family to stay together," said Mark Wahl.
The suite was made possible, in part, by major contributors like The Dow Chemical Company, Three Rivers Corporation, PrimeLending, Fisher Companies, Pat's Gradall and many other community businesses.